Letong Shan (
勒通山)
is a poor village in south-west of Yunnan Province. The government funding to build the access road is not enough. The villagers used the interests generated from the micro-finance money provided by CRSS to match the government funding to build the road to outside world. Now the road is a reality. Micro-finance provided by CRSS requires the interests to be kept at the village level for their own community use.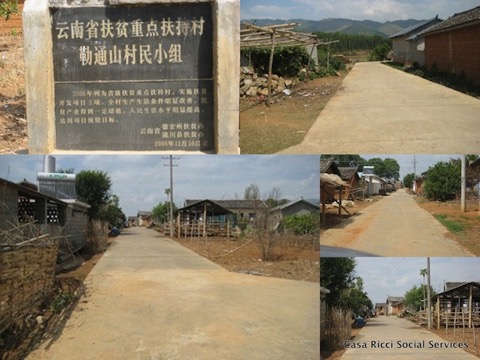 CRSS's Mobile Care Unit is piloting a dental service in addition to the eye cataract surgery and eye lid repair services to the People Affected by Leprosy (PAL) in rural villages. This new dental service helps to restore dental health to PALs by implanting the necessary teeth. The pilot is conducted in southern part of China first and will be extended to the whole of China. Casa Ricci has been providing eye services to PALs living in China rural villages since 2006, examined over 6,000 cases and served 2,700 operations in 138 villages in 18 provinces.

Casa Ricci Social Services have been in the Longchuan region since 2007. As of now, we have been giving close to 4000 scholarships, helping close to 20 schools on their school structures, student dorms, school equipment and furniture, school shower and restrooms facilities, and raising pigs to improve students' meal plans. Below photo is a recent scholarship awarding ceremony.